Cyber Security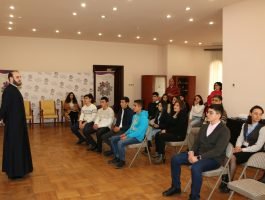 On March 16, the first stage of the "Spiritual and Cyber Security" course, "Cyber Security", started at the ACYOWorld Central Office.
The speakers of the day were Lilia Totolyan, Computer Specialist of the Mother See of Holy Etchmiadzin, and David Muradyan, PR Officer of the Armenian Round Table Foundation.
The young people who participated in the training learned a number of other cyber-security nuances: "How to keep personal data safe", "How to choose passwords correctly", "How to distinguish between fraud and not to become a victim of hacker campaigns".
The second stage of the training, "Spiritual Security", will take place on March 17. The speaker of the day is Almast Muradyan, co-founder and chairman of "Dialogue" NGO.